This is an archive of the old Stones Cry Out site. For the current site, click here.
« Top Religion Stories of 2006 Include the Evangelical Climate Initiative | Main | Patterico Skewers L.A. Times »
December 29, 2006
Getting Out of the Wild and Into a Mission
Christian men need all of the help they can get staying true to the high calling of the Gospel and staying faithful. Just as important, says Matt Lobel of Out of the Wild, is for men to find the mission God has for them. It's a message profound in its simplicity.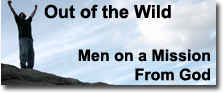 As Jake and Elwood famously said: "We're on a mission from God."
Posted by Jim at December 29, 2006 04:41 PM
Trackback Pings
Comments