This is an archive of the old Stones Cry Out site. For the current site, click here.
« Georgia Same-Sex Marriage Amendment Upheld | Main | Fast-Forward Considered Harmful; Hollywood Stifles Viewer Choice »
July 06, 2006
To Uganda
We leave tomorrow to visit the children of war and those who care for them in northern Uganda. We'll spend the next two weeks in Kampala and in remote towns in the north that have suffered much at the hands of the Lord's Resistance Army (LRA).
With peace talks possible this next week, it is a good time, it seems, to visit. We go with a group from ChildVoice International, which is seeking to respond to the horrific brutality of the LRA. The group has terrorized the nation of Uganda for 19 years and has abducted children to serve as child soldiers.
ChildVoice wants to raise awareness in the international community about child victims of war. Currently, the organization is planning to build a village in Uganda where children can live after escaping from their LRA captors.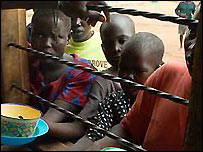 I hope to write along the way and to report when I can on the road, or when I return.

In addition to being beaten, raped, and forced to march until exhausted, abducted children are routinely forced to participate in the killing of other children who attempt to escape. In addition to the thousands who have been abducted, thousands more have been killed, maimed, brutalized, and used to undertake the worst atrocities imaginable, including murder, rape, theft, and the like, and often on the very communities from which the children had lived.
Children who succeed in escaping from the LRA find their ordeal far from over. Fearing rebel reprisals against themselves or their families if they return to their villages, most escaped children are afraid to go home. Many others have nowhere to return to, as their villages have been decimated and are left abandoned when inhabitants are forcibly evacuated and sent to internment camps.

Posted by Jim at July 6, 2006 09:53 PM
Trackback Pings
Listed below are links to weblogs that reference To Uganda :
» Prayers of Protection from Sierra Faith
For Jim at Stones Cry Out as he travels to Uganda to help children victims of war with ChildVoice. [Read More]
Tracked on July 11, 2006 03:07 AM
Comments
Good for you, Jim. I've heard about this problem from others that have been to Uganda. By the sounds of their stories, you need to be careful and commit to prayer.
Posted by: bruce at July 6, 2006 11:32 PM
Good luck. Stay safe. God bless.
Posted by: Bob at July 10, 2006 01:12 AM
Posted by: Dan Trabue at July 10, 2006 10:22 AM