This is an archive of the old Stones Cry Out site. For the current site, click here.
« A Tax Bill Worth Getting Excited About | Main | More on the TNIV and HCSB Bibles »
February 14, 2005
Nice Tribute by an Iraqi Artist
A beautiful new statue stands outside the Iraqi palace, now home to the 4th Infantry division. The statue was created by an Iraqi artist named Kalat, who for years was forced by Saddam Hussein to make the many hundreds of bronze busts of Saddam that dotted Baghdad.
Kalat was so grateful for the American liberation of his country that he melted three of the heads of the fallen Saddam and over several months made the statue as a memorial to the American soldiers and their fallen warriors.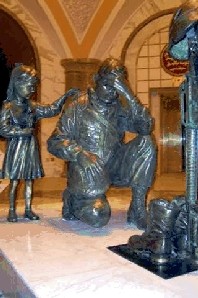 To the left of the kneeling soldier is a small Iraqi girl giving the soldier comfort as he mourns the loss of his comrade in arms.
It's a nice tribute to the brave men and women who have died in service and to those who are at arms so far from their homes.
The statue will eventually be shipped home and put in the memorial museum in Fort Hood,Texas.
Posted by Jim at February 14, 2005 09:29 AM
Trackback Pings
Listed below are links to weblogs that reference Nice Tribute by an Iraqi Artist :
» Nice Tribute by an Iraqi Artist from Right Mind
[Read More]
Tracked on February 15, 2005 11:48 AM
Comments
Posted by: Ben at February 14, 2005 09:41 AM
Lovely. Thanks for posting this.
Posted by: TheAnchoress at February 14, 2005 01:52 PM
This story is only partially true
http://www.snopes.com/photos/military/kalat.asp
Posted by: CJ at January 8, 2006 02:15 AM